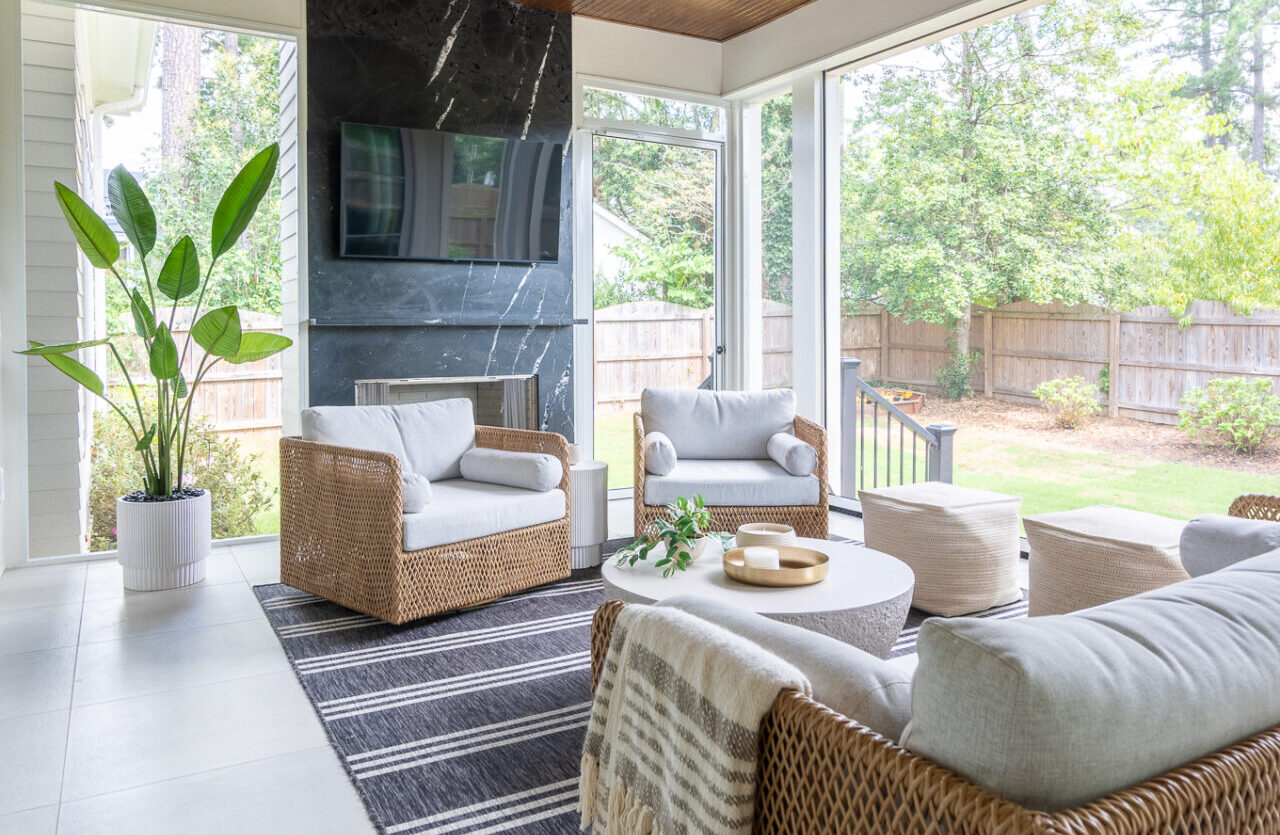 You've finally perfected your home. Every space, from your kitchen to your living room to your primary bedroom, is designed just the way you like it. But there's one key area of your home you might be forgetting about – your outdoor space. Whether you have a patio, a backyard, or even an all-season room, you should treat this space just like any other room in your home. And interior design isn't just for interiors. There are plenty of interior design elements you can apply to your outdoor spaces to make them feel like any other room in your home – a functional, beautiful living space for relaxing, entertaining, and everything in-between.
Combine your outdoor space with your indoor space
One of the most important aspects of beautiful, eye-catching interior design is cohesion. Every room in your home might look different, but for a unified design, key design elements – paint colors, textures, finishes – can be carried through from room to room. Your outdoor space is part of your home, so treat it like you would any other room! Here are a few ways you can keep your outdoor space more consistent with the design of the rest of your home:
When choosing your outdoor furniture, pick colors and textures similar to your indoor upholstery (in a fabric that's more robust to withstand the elements!).
Consider constructing a pergola over your outdoor space to make it feel more "indoor," or even converting your space into an all-season patio to be enjoyed all year long.
Paint your pergola or your all-season patio walls the same color as the adjoining indoor room, helping your indoor space flow seamlessly into your outdoor space, and vice-versa.
Incorporate "indoor" elements
If you live in a more temperate climate, you have a lot of flexibility with your outdoor space. If you do have to worry about wind, rain, or snow, you can still do a lot – just be prepared to pack away things that shouldn't be exposed to the elements when winter rolls around. Here are a few "indoor" elements you can incorporate in your outdoor space:
Don't neglect outdoor lighting. The sun sets earlier later in the year, and you don't want to be having backyard parties in the dark! If you choose to build a pergola in your outdoor space, hang string lights or lanterns for both visibility and style.
Rugs aren't just for indoors! There are plenty of options for outdoor-friendly rugs you can use to bring a touch of interior design to your patio. A rug is also another opportunity to pull colors, textures, or other design elements from your indoor space to your outdoor space.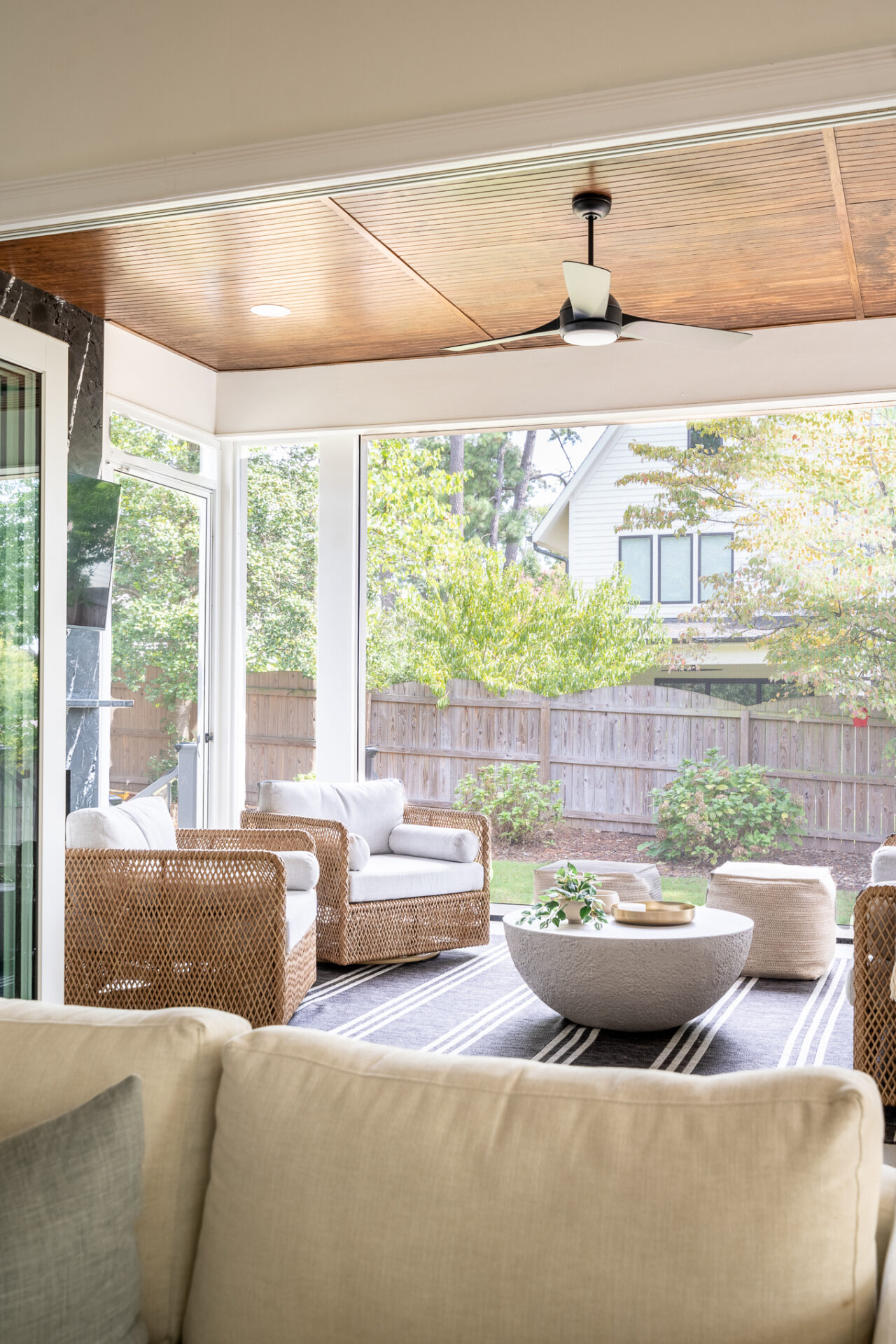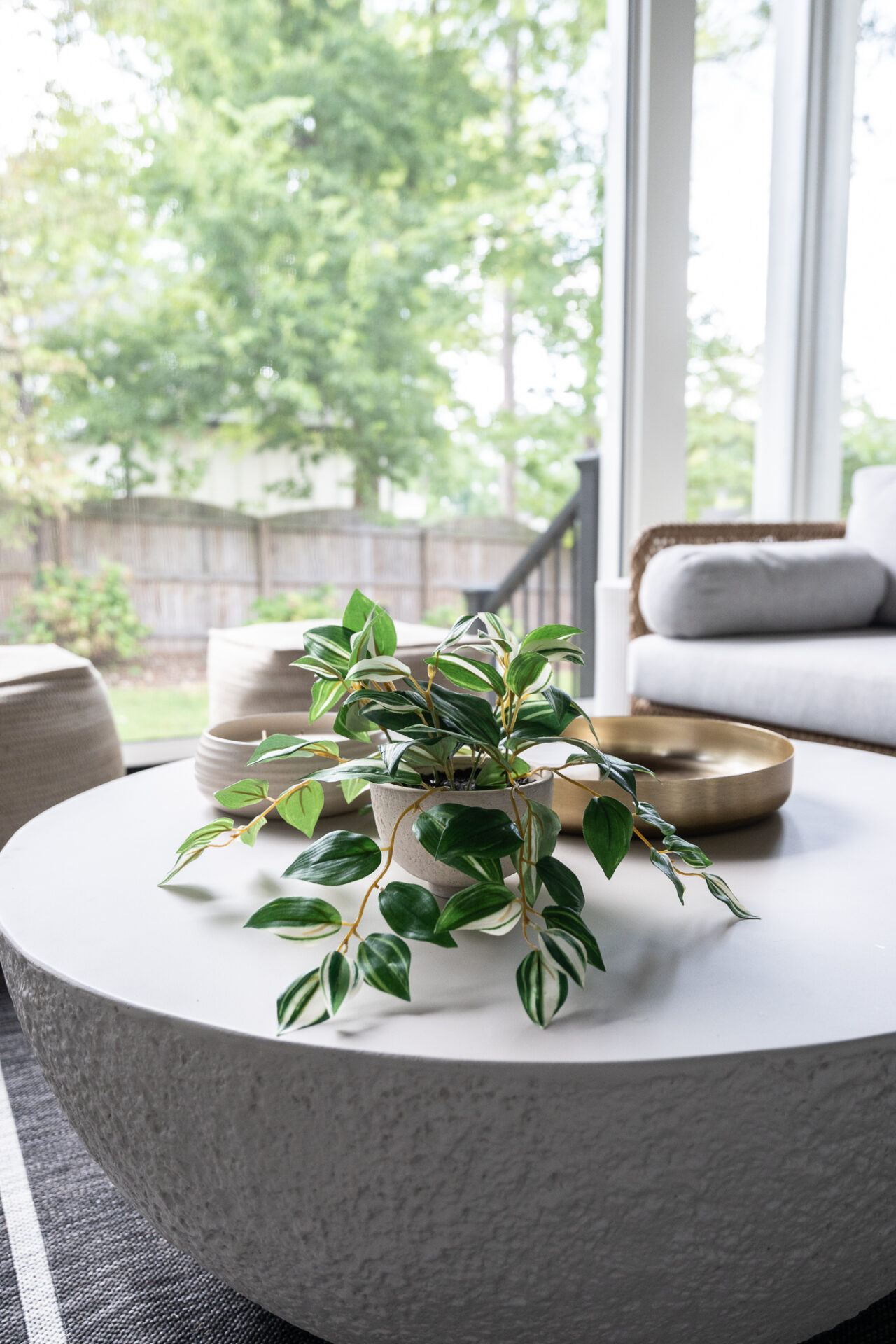 Accessorize your outdoor space just like your indoor space. Add throw pillows to your outdoor furniture, decorate with potted plants, and use decorative objects like sculptures and artwork to elevate the space.
Redecorate with the seasons
Your interior design changes with the seasons, so change up your outdoor space, too. Whether you're decorating for spring, summer, fall, or the holiday season, here are a few simple ways to refresh the look of your outdoor space as the seasons change:
Switch out your accessories. If you're changing out your indoor throw pillows to reflect the season, switch out the pillows on your outdoor seating, as well.
If you have potted plants on your patio, consider planting seasonal flowers. Flowers are also a great way to add a pop of color to your greenery and liven up your space.
If you live somewhere you can use your outdoor space through the fall and even into the winter, you'll want to account for changing temperatures. This fall, consider adding a new heat source to your patio, whether that's a stylish fire pit or modern-looking heat lamps.
Your outdoor space might not be included in your square footage, but that doesn't mean it isn't part of your home. There are plenty of ways to approach your outdoor space with interior design in mind. Comment with some of your favorite design ideas for patios, backyards, and other outdoor areas!